Governor's Funding Award Boosts MGA's Dublin Campus Healthcare Program Expansion
Author: News Bureau
Posted: Tuesday, January 11, 2022 12:00 AM
Categories: School of Health and Natural Sciences | Pressroom | Faculty/Staff | Students
---
Dublin, GA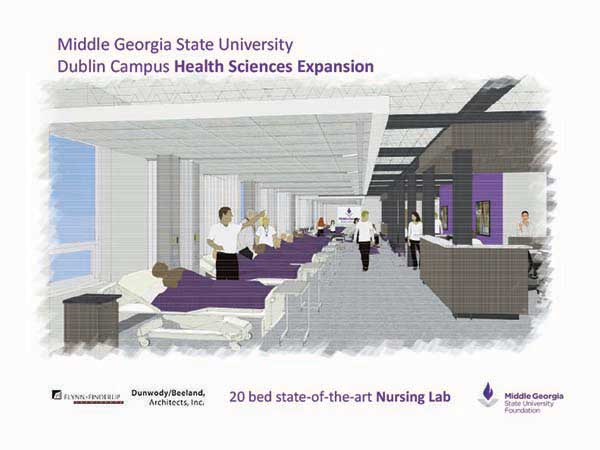 Thanks to $900,000 in new funding the Georgia governor's office has awarded, Middle Georgia State University (MGA) is substantially bolstering an expansion of the Dublin Campus as a healthcare degree program hub, a project that has been underway since late 2020.    
Gov. Brian Kemp announced the award on Jan. 10, 2022. MGA will use the funds to complete a chemistry lab and virtual health care technology modeled after that developed by Augusta University, home of the state's public medical school, during the COVID pandemic. The funding essentially allows MGA to complete the full scope of the original Dublin Campus expansion plan, which includes adding a bachelor's degree in nursing to the existing associate's degree, as well as introducing  to that location other healthcare programs specific to the needs of rural communities. 
"We are grateful to Gov. Kemp for his confidence in Middle Georgia State University to use this new funding in a way that will greatly impact Dublin and Laurens County and allow us to help address the critical nursing shortage," said Dr. Christopher Blake, MGA president. "The Dublin Campus expansion will provide the means for our nursing students to learn specific skills to deliver healthcare to rural areas. This funding will allow us to graduate more nurses at a time when they are desperately needed, further fulfilling our institution's mission of providing quality, career-driven education and graduating inspired, lifelong learners whose scholarship and careers enhance the region."
Kemp is allocating the $900,000 to MGA through the Governor's Education Emergency Release Fund (GEER) II. GEER II is funded under a section of the federal Coronavirus Response and Relief Supplemental Appropriations (CRRSA) Act.  
In 2020, MGA received $4.8 million in state bond funding to expand space, equipment, and faculty at the Dublin Campus – located near Carl Vinson VA Medical Center - to admit and graduate more nursing students. Now underway, the project includes two large nursing lecture classrooms, a 20-bed hospital laboratory, a 3-bed nursing simulation lab, a technologically enhanced observation room that connects to the simulation room, and two additional nursing faculty members dedicated to the Dublin Campus.  
 
With the new funding, the University can complete the original plan more expeditiously than expected and increase virtual experiential learning labs. In addition, expedited completion of a chemistry lab that is part of the project means MGA can move faster to introduce the respiratory therapy program to the Dublin Campus, when approved by the Commission on Accreditation for Respiratory Care (CoARC), in addition to other health-related programs.
MGA has long offered an associate's degree in nursing on the Dublin Campus, typically admitting 60 students each academic year. The expansion project will allow MGA to admit 100 students each year and expand the bachelor's nursing degree (BSN) into Dublin. Forty of the 100 students admitted each year will enter the bachelor's degree program.   
 
"Prospective students from the Dublin area interested in a baccalaureate-level nursing program won't have to leave home to find one," said Dr. Tara Underwood, dean of MGA's School of Health and Natural Sciences. "That's a tremendous benefit to a community invested in producing a health care workforce with strong ties and commitments to the area." 
MGA expects to complete the Dublin expansion project this summer, in time to welcome the campus's first baccalaureate nursing students in fall 2022.  The University plans to continue to develop the campus into a hub for healthcare programs, focusing on helping to meet needs in not only Georgia's population centers, but also in the state's rural communities.  
The Dublin Campus originated in 1984 when it opened in a downtown location as a resident center of several University System of Georgia schools, including what is now MGA. The campus, now solely part of MGA, later moved to the current location on Kellam Road, near Carl Vinson VA Medical Center. A new building was constructed in 2000. The campus also includes a building and 40 acres of land the VA donated.