Georgia House And Senate Honor MGA With Resolutions Marking Aerospace Day At State Capitol
Author: News Bureau
Posted: Wednesday, February 23, 2022 12:00 AM
Categories: Honors/Awards | Faculty/Staff | Pressroom | School of Aviation
---
Atlanta, GA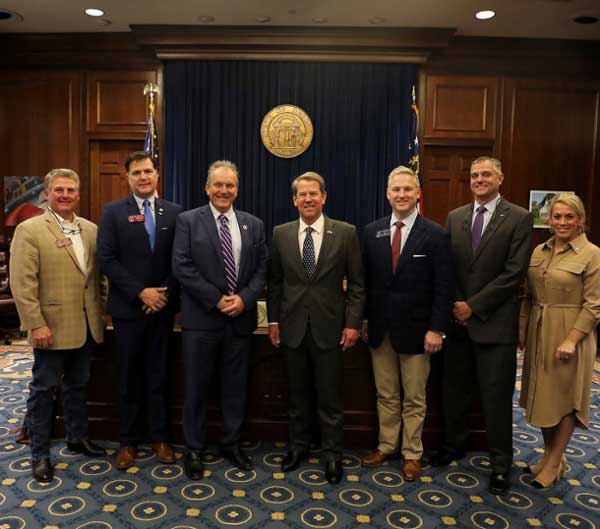 Recognizing Middle Georgia State University (MGA) as the home to Georgia's flagship aviation school, the Georgia House of Representatives and Georgia Senate approved formal resolutions honoring the University on Aerospace Day, which was February 15, at the state capitol.
Both resolutions highlight the fact that MGA is the only University in Georgia that offers a bachelor's degree in flight. "MGA offers programs that support the aviation industry with business administration, information technology, cybersecurity, and specialized aviation programs," the resolutions read. "MGA … was selected as one of only eight aviation universities in the nation as the initial cadre for Delta Air Lines' Propel Collegiate Pilot Career Path, a defined, accelerated, and customized path from school to a Delta Flight Deck."
The resolutions also note that MGA's aviation campus, based in Eastman and with a satellite location at the Macon Downtown Airport, has a "unique combination of assets" that allows Georgia's aerospace companies to utilize one of the country's fastest-growing aviation programs for applied research, testing, and training while also providing exceptional hands-on training for MGA students."
"MGA provides students with the resources and instruction required to become aviation professionals, and this outstanding academic institution is abundantly deserving of recognition and commendation," the resolutions read.  
MGA's

 
School of Aviation
 

is one of only nine U.S. schools – and is the most affordable of the nine – with three FAA-certified programs. The school offers the Bachelor of Science in Aviation Science and Management with airplane and helicopter flight tracks, as well as programs in aviation maintenance technology, aviation structural technology, and air traffic management. The Disney+ program "The World According To Jeff Goldblum" recently featured MGA's air traffic management program on one of its episodes.
House Resolution: 
https://www.legis.ga.gov/legislation/62110
Senate Resolution: 
https://www.legis.ga.gov/legislation/61826
MGA School of Aviation:

 
mga.edu/aviation