MGA Nursing Students Serve Leadership Roles in Statewide Association
Author: News Bureau
Posted: Tuesday, February 8, 2022 12:00 AM
Categories: Pressroom | Honors/Awards | Students | School of Health and Natural Sciences
---
Macon, GA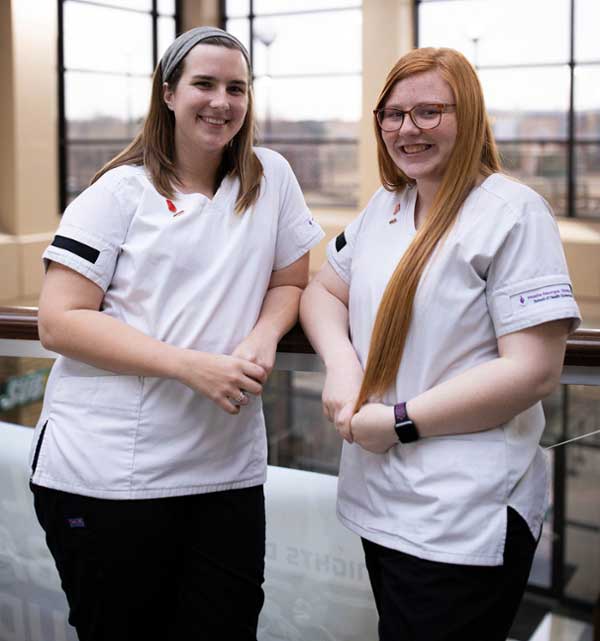 They're still a few months shy of graduating with their Middle Georgia State University nursing degrees, but Katie Poupard and Abby Dunbar already are leaders in their field.
Poupard is current president and Dunbar is secretary of the Georgia Association of Nursing Students (GANS), a statewide advocacy organization for people interested in going to nursing school and those already enrolled or recently graduated. The organization, which serves as the Georgia branch of the National Student Nurses Association, promotes resources and professional development opportunities for nursing students.
This is the first time in several years MGA nursing students have held officer positions with GANS. That Poupard and Dunbar would be the ones to fill those roles comes as no surprise to Dr. Lacey Wallace, MGA associate professor of nursing and advisor for the Middle Georgia State Association of Nursing Students, or MGSANS. Poupard also is president of MGSANS while Dunbar serves as vice president.
"They have led MGSANS well through many service opportunities, such as blood drives, school supply drives, and backpack buddies," Wallace said. "They meet with incoming students and first semester students to talk about how to acclimate to the nursing program and how to study. They bring wonderful leadership skills to GANS."
Poupard, 22, who is from Evans, Ga., originally enrolled at another university as a pre-med major. She later realized she would prefer a healthcare career path with more one-on-one interaction with patients so she transferred to the MGA nursing degree program.
"I really love nursing," she said. "I love interacting with not only patients, but their families, too."
Dunbar, also 22, is from Forsyth, Ga. She's dreamed of becoming a nurse since she was in middle school. Both of her parents worked non-medical roles for hospice organizations, and Dunbar sometimes got opportunities to volunteer with the patients, most of whom were senior adults.
"I visited hospice patients, read to them, and helped out with special programs," she said. "I just fell in love with the older population."
Both women said they wanted to take on GANS leadership roles to, in part, help encourage young people interested in nursing to take the leap. They know the COVID pandemic has caused some to hesitate, but they think MGA's nursing program and the profession in general have done a good job making sure RNs-in-training and current practitioners are well versed in safety procedures and have access to a variety of tools and resources to help them stay healthy and manage job-related stress.
"GANS is a super supporter of nursing students from across the state," Dunbar said. "Nursing school is difficult but there are so many resources to help. I hope our involvement in GANS will help bring more people into Middle Georgia State's nursing program."