Finding Greatness: A.J. Kahrmann
Author: News Bureau
Posted: Thursday, March 24, 2022 12:00 AM
Categories: Students | School of Health and Natural Sciences | Pressroom | Finding Greatness | Honors/Awards
---
Cochran, GA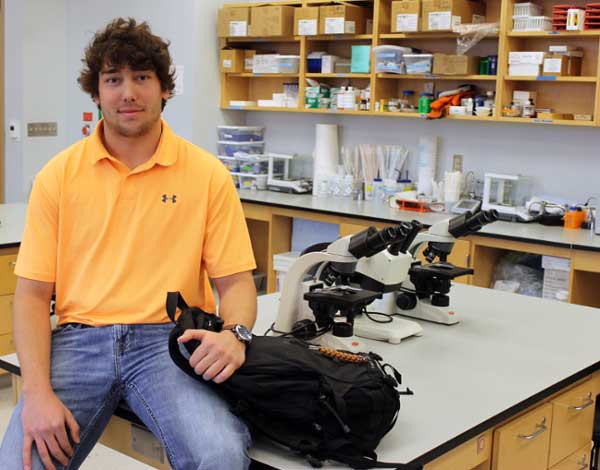 Biology major A.J. Kahrmann, MGA's 2022 Academic Recognition Day Scholar, is graduating this spring and will enroll at the Dental College of Georgia this fall.
Full Name: A.J. Kahrmann.
Age: 22.
Hometown: McRae. 
Family: Mom and "biggest supporter," Carol Kahrmann; dad, Randy Kahrmann, and brothers, Nick and Matt Kahrmann. 
Employment: "I currently work part-time for Coca-Cola United at the Mcrae-Dublin plant, and I work as a tutor with the Student Success Center at Middle Georgia State University. My family and I also maintain a lawn care company in McRae."
Degree Objective: Bachelor of Science in Biology, graduating with honors.                                          
Class Rank: Senior.
Primary Campus: Cochran.
Activities:  
Pre-Health Professional Club - co-founder and president
MGA Honors Student Association
MGA Science Club Member
MGA Student Government Association - 2019-2021 - senator
Career Goals: "I want to become a dentist. As a dentist, I would be able to make a positive impact in the lives and oral health for many of the people who live in South Georgia."
He chose Middle Georgia State University because … "It offered me a great education close to home. Campus and off-campus community involvement are big factors in graduate admissions, so having the ability to commute back and forth has allowed me to remain active in both my hometown and campus. This has allowed me to live comfortably at home while still remaining competitive with students at larger schools. The biology program at MGA is also very well developed with very knowledgeable and helpful staff. MGA maintains the small-school feeling,  which helps calm nerves making the transition from high school to college. Everyone at MGA has always done their best to make sure I was taught the correct information at the correct depth, which has helped me along my path to dental school."
The greatest thing he discovered about Middle Georgia State was … "How knowledgeable and helpful the professors are. They truly are very helpful in making sure students are understanding the tough concepts, especially in the biology program. Many graduate programs require admissions tests to qualify for the program, so understanding the basic biology and chemistry topics is crucial to score high on admissions tests. I can say that the biology program prepared me very well for the dental admissions test, and they helped me to score competitively even against students from larger schools. This is one of the best qualities about MGA."
His greatest academic experience as a Middle Georgia State student has been … "Maintaining a 4.0 GPA during my time at MGA and being selected as the 2022 Academic Recognition Day scholar."
To him, "greatness" means … "Achieving a level of personal satisfaction with yourself and the things you have done. I think you must wake up and work hard every day to find the elusive point at which you have become satisfied with your accomplishments. For many people, the day may never come where we are satisfied, and it helps to motivate us to keep pushing forward."
In five years … "I'll be attending the Dental College of Georgia and, after graduation, either starting a practice or working with some of the incredible dentists I have shadowed."