MGA Biology Professor Wins Major Award From American Society of Parasitologists
Author: News Bureau
Posted: Wednesday, March 16, 2022 12:00 AM
Categories: Faculty/Staff | Honors/Awards | Pressroom | School of Health and Natural Sciences
---
Macon, GA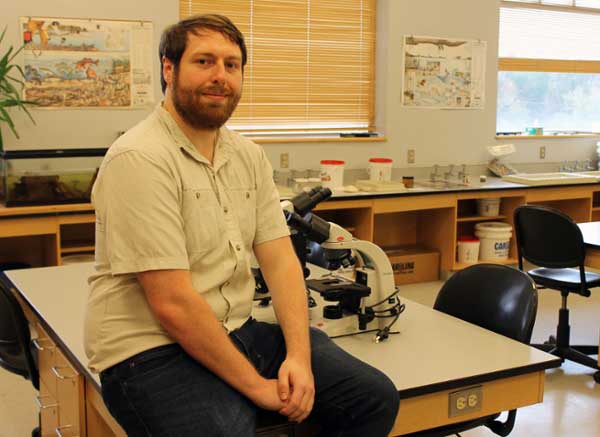 Dr. Tyler Achatz, Middle Georgia State University assistant professor of
biology
, is the 2022 recipient of the American Society of Parasitologists' (ASP) Ashton Cuckler New Investigator Award. This award is given to the most outstanding North American early career parasitologist of the year. The honor is competitive, and is based on the recipient's research over the course of graduate studies. The award was established by the 2015 Nobel Prize winner William Campbell, a longtime member of the American Society of Parasitologists.
Achatz's research focuses on a diversity of questions related to parasites. His primary interests lie in the study of the evolutionary history and systematics of flatworm parasites as well as their co-evolutionary relationships with their hosts. Many of the worms he works with are associated with a wide variety of fish diseases. His studies have begun to reveal the true agents of these diseases by matching many of these larval parasites with their adult stages. (Achatz has also worked on projects related to the Zika virus as well surveys of ticks and their diseases in North Dakota.)
The parasites Achatz studies have originated from animals throughout the world and include specimens collected from every continent except for Antarctica. Throughout his studies, he has conducted fieldwork throughout North America and parts of South America. Some of the parasites originated from iconic animals, such as penguins and crocodiles. This research has yielded 22 published/accepted peer-reviewed manuscripts and another that is currently in review. These publications have been in a variety of scientific journals, including the Journal of Evolutionary Biology, Zoological Journal of the Linnaean Society, Zoologica Scripta, International Journal of Parasitology, and the Journal of Parasitology. To date, Achatz has described one new subfamily, nine new genera, and 24 new species across five different families of flatworms.
"This research would not have been possible without a worldwide network of collaborators and numerous undergraduate research assistants," Achatz said. "Over 75 percent of these student researchers belong to underrepresented groups in STEM. I've done my best to maintain my research productivity here at MGA since I started last fall. This semester I began research projects with three students at MGA."
Achatz completed his Ph.D in biology from the University of North Dakota in the spring of 2021, where he was a graduate research and teaching assistant and received several grants and awards for research. Currently, he has a $500,000 grant proposal in review by the National Science Foundation. Achatz twice received the Outstanding Graduate Student award during his time at the University of North Dakota. In 2018, he received the LaRue Award from the Annual Midwestern Conference of Parasitologists and in 2021 the Southeastern Society of Parasitologists gave him the Byrd-Dunn Award.