MGA Graduate Student Forges Her Path in Public Relations
Author: Alexandria Brooks
Posted: Tuesday, May 31, 2022 12:00 AM
Categories: School of Arts and Letters | Faculty/Staff | Pressroom | Students
---
Cochran, GA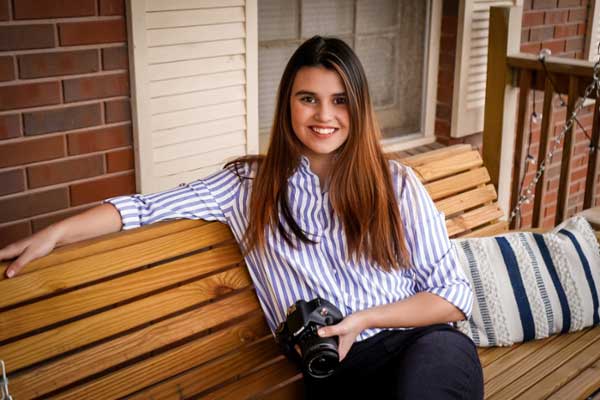 When Lynzee White discovered Middle Georgia State University's public relations graduate program, she knew she had found the perfect fit — "keeping me close to home while receiving a quality education." Overjoyed, White couldn't apply fast enough.
"As I explored graduate programs, I wanted to apply for a public relations program, but I wanted to keep my cost as affordable as possible. When I saw that Middle Georgia State University was offering a master's in PR, I immediately began gathering everything needed to apply."
White, 25, from Cochran, works as a supply planner at Robins Air Force Base. Hired as a part of the Supply Chain Student Trainee Pathways program, she supports the military by ensuring that specific plane parts are in good condition and available when needed. White is also a social media coordinator for Mt. Calvary Baptist Church and runs her own photography business, Lynzee White Photography, which allows her to "dive deeper" into her passion.
White's love for photography began to bloom during her early years at MGA. She received her undergraduate degree at the University, graduating in 2020 with a Bachelor of Arts in Media and Communications. She remembers her time at MGA fondly—so fondly that it prompted her to return to the University for her master's degree.
"I thoroughly enjoyed the Media and Communications Program. It opened my eyes to how much I enjoy creating media and learning about the world of communications… I enjoyed my professors and the sense of community that the students shared. I have two children, with one of them being a toddler when I was working through my bachelor's degree. Professor Rebecca Edwards was kind enough to let me bring my daughter to class on several occasions. She offered up a spot on her whiteboard and some markers for my daughter to color. I remember my classmates playing with her so that I could work on an assignment during class. Dr. Lavette Burnette offered to watch my daughter in her office one day so that I could go to an extra credit assignment. I'll never forget the kindness of these professors. I truly could not have done it without their support."
White, one of the first to pursue the new PR degree program, is eager to forge her path in the professional world. Despite only just beginning her master's courses, White is thoroughly impressed by the amount she has learned in such a small amount of time.
"I am in the first group of students in the Master of PR program, have taken two classes, and have already learned so much about writing digitally, as well as PR theories. The assignments have allowed me to have 'hands-on' experience in the world of PR by building websites, writing articles, and creating connections that I otherwise wouldn't have made!"
MGA opened doors for White and she has no doubt that her time in the PR program will show her much of the same.
"Middle Georgia State University has directly impacted my future career because of the opportunities that I have been afforded through their undergraduate and graduate programs," says White. "I was selected to be a summer intern at the Museum of Aviation in 2019, which allowed me to work hands on in the public relations and communications world, which was a great opportunity and set me on the correct path for all of my future endeavors. I love working for Robins Air Force Base, and I hope to transfer to the public affairs department upon the completion of my graduate degree and completing the Pathways program."
MGA's new, fully online Master of Arts in Public Relations program was created in 2021 to aid the growing need in media, communications, marketing, and advertising. Graduates of the program are prepared for careers in public relations in fields such as business, entertainment, technology, government, and beyond.
MGA continues to grow the new program, introducing a "stackable" graduate certificate in Strategic Business Communication coming in fall 2022 which allows students to further their professional growth without committing to a graduate degree program. The "stackable" feature allows those pursuing the new certificate to have all five classes count towards the Master of Arts in Public Relations should they decide to pursue the graduate degree.
This article is from the spring 2022 issue of MGA Today magazine.