When It Comes To Your Career, Graduation Is Only The Beginning
Author: news bureau
Posted: Tuesday, May 3, 2022 12:00 AM
Categories: Faculty/Staff | Pressroom
---
Macon, GA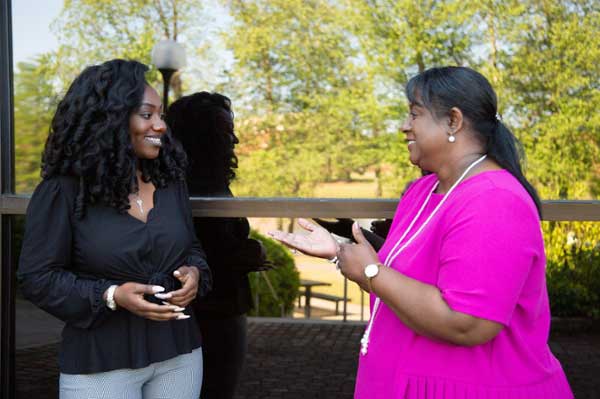 Congratulations, Graduate! You have achieved another educational feat, and we celebrate your accomplishment. So what's next? Here are some timely tips from Barneika Williams and Debra Mainor, both career advisors for Middle Georgia State University's Center for Career & Leadership Development.
Network
Networking is a great tool that keeps you in the know. You're able to make new relationships and cultivate old ones.
As a recent college graduate, you may not have many professional references. Your peers and professors are great people to have as professional references. You have worked on projects, been a part of organizations, and experienced academic highs and lows with your peers. Your peers can give your future employers first-hand knowledge about your work ethic. Your professors have witnessed all of these things, as well, and can attest to all of your academic and extracurricular accomplishments within the university. Preserve these relationships after you graduate and add these contacts to your LinkedIn account.
If you don't have a LinkedIn account yet, be sure to create one so that can continue to build your network. You can use LinkedIn to follow employers, search job listings, and to connect with MGA alumni and other professionals who are employed at the companies and in the fields where you aspire to work.  If you are job searching, you can also request informational interviews with new contacts in your field to learn about their career paths and possible opportunities in their organizations or within the community. You're also able to stay abreast of networking events held in your local community, via your connections. Your connections have the ability to endorse the skills that you list on your LinkedIn profile, which aids in your credibility and makes you stand out to employers.
If you are still job searching, be sure to attend career fairs within your community as well as fairs held via the Center for Career & Leadership Development; we have job fairs that are in-person and that are promoted via Handshake.
Another side to networking is meeting new people. Attend social gatherings, such as MGA alumni events. When in these settings, talk about your career aspirations. You never know who's listening and in a position to help you get to the next level.
Practice Financial Stewardship
If you took out federal loans during college, this is for you. Six months after graduation, you will be required to start making payments on those loans. Your loan debt will be handled by a loan servicer that will reach out to you about repayment. Be sure to be open and honest about your financial situation so that you will get the best repayment plan for you. The Department of Education offers Income-Based Repayment plans as well as Public Service Loan Forgiveness (PSLF). It may be overwhelming, but don't avoid paying back student loans, because a defaulted loan can keep you from being eligible to use federal loans in the future and crush your credit. Keep in mind, some companies include credit checks as a part of the background check for employment. Don't let avoidance of loan repayment ruin your credit and keep you from getting the job that you want.
Update Your Wardrobe
Gone are the days when you can show up in hoodies, slides, and ripped jeans whenever you feel like it. Yikes! Now, you have to dress for success.
Be sure that your closet has the attire needed to be interview AND job ready. You always want to present yourself in the best way possible. Showing up to an interview and to your job, dressed in business professional attire, allows others to see that you are serious.  Even if you are working in a remote environment or a more casual environment, you will want to be prepared for professional interactions.
Utilize the Center for Career & Leadership Development's Alumni Services
The Center for Career & Leadership Development offers the same career development services to alumni that we offer our current students. Through our Handshake platform, you can schedule virtual and in-person appointments to get assistance with your resume, cover letters, job search, interviewing skills, and much more.  While others will pay private firms for these services, we offer them for free to our alumni and students. Yes…FREE! You can also use Handshake to connect with employers who want to hire MGA graduates. Don't miss out on these services. Go to Career Center then Appointments in Handshake to request an appointment. We also offer resume samples and other handouts in the Resources section.
Keep Building Your Experience
Maybe your current employment is not directly related to your dream job or maybe you're not currently employed. Don't fret! Rest assured that you have learned skills that are transferable. Transferable skills include critical thinking, adaptability, problem-solving, and multitasking, just to name a few. Also, if you are currently employed, don't be afraid to ask your current employer to take on new tasks that you feel will help you prepare for your dream job.
You may want to gain more job specific experience needed to land the job that you want, experience that you may not be able to gain through your current employment. Don't worry - volunteering and shadowing can possibly get you the experience that you need. Reach out to organizations that align with your career path. Ask to shadow someone that has a role exact or similar to the one you want. This gives you inside knowledge and experience to add to your resume.  
So Graduate, proceed with confidence in your pursuit of your career aspirations.  Be intentional about your plans and achievement of career goals.  And best wishes on your graduation and for your future!