Project SEARCH Graduates At MGA Ready For Work
Author: Sheron Smith
Posted: Tuesday, May 17, 2022 12:00 AM
Categories: Honors/Awards | Pressroom | Students
---
Macon, GA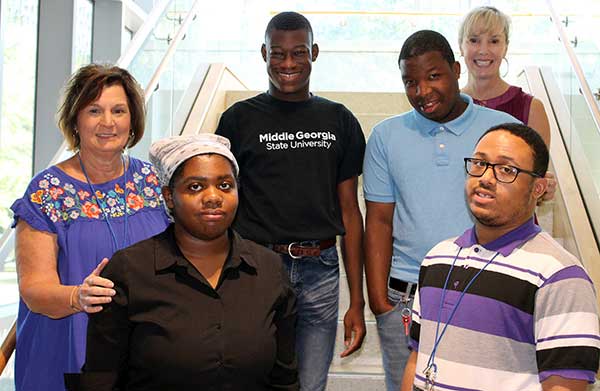 Anxiously awaiting the first paycheck from his new job, Jordan Hawkins already knows what he's going to do with the money.
"I'm going to save it," said the outgoing 21-year-old, who is working as a courtesy clerk at the Hartley Bridge Road Kroger in Macon and, clearly, paid close attention during his financial literacy classes in the Project SEARCH program, a partnership between the Bibb County School District and Middle Georgia State University (MGA).
His three Project SEARCH classmates also have jobs lined up as they get ready to graduate from the program on May 19. A national program adopted by the school district several years ago, Project SEARCH helps developmentally challenged young adults gain employable skills.
The graduation ceremony for the Class of 2022 will take place at MGA's Macon Campus, where Project SEARCH participants intern in various departments throughout the fall and spring to learn work skills and habits.  
 "We're very proud of all of them," said Kim Soles, one of the Project SEARCH program's two Bibb County instructors.  "They're hard workers."
Since the beginning, MGA has hosted Project SEARCH participants by providing an academic year's worth of work experience at various Macon Campus departments, including food services (through Aladdin, the University's dining vendor), the bookstore, and the library. About 20 students, including the four set to graduate this week, have completed the program since MGA and the school district became Project SEARCH partners.  
Project SEARCH was founded in Cincinnati in 1996 by a children's hospital emergency department director, according to the program's website. Because the hospital served so many people with developmental challenges, the director thought it made sense to commit to hiring from among them for some of the facility's entry level jobs.
Since then, the transition-to-work program has spread to a number of cities across the nation and abroad. Project SEARCH's goal is to help special-needs students qualify for competitive, integrated employment and develop as much independence as possible as they enter adulthood.
In Bibb County, Project SEARCH interns begin the program each fall after graduating from high school. Soles and Jennifer Wright, the program's other instructor, monitor the interns as they take on various job duties at MGA, ranging from serving food and drinks and cleaning tables at the dining facilities to shelving books at the library to stocking shelves at the campus bookstore.
Soles and Wright also provide classroom instruction throughout the year on topics that help the students hone their work abilities, such as interview skills, dress codes, team building, staying safe on the job, and handling money wisely.  
MGA "has been so wonderful to these students," Wright said. "We couldn't ask for a better environment for them."
Besides Hawkins, the Class of 2022 includes Jordan Brown, 20, who also will work as a Kroger courtesy clerk, but he will be based at the Forsyth Road store. Brea Carswell, 20, will work at Bears Den, a popular restaurant near downtown. Trey Solomon, 19, will work at Walmart on Harrison Road, less than a mile from the Macon Campus. And Soles and Wright will periodically check in with them at their jobs to provide ongoing support.
The Project SEARCH graduation ceremony is scheduled for 9:30 a.m. Thursday, May 19, in the Math Building auditorium on the Macon Campus.
Jamie Cassidy, assistant superintendent of the Bibb County School District, and Dr. Christopher Blake, MGA's president, will make brief remarks. Wright will introduce representatives of the MGA departments who managed and served as mentors for the Project SEARCH interns, while Soles will introduce new students who will begin the program this fall.
In addition to receiving his Project SEARCH certificate along with his classmates, Hawkins will take part in the ceremony by reading an inspirational poem written by Michelle Nadasi. The lines include:
I will win
I will soar
I won't give in
I will give more