Finding Greatness: Modupe Oyewole
Author: News Bureau
Posted: Wednesday, September 28, 2022 12:00 AM
Categories: Finding Greatness | School of Information Technology | Students | Pressroom
---
Macon, GA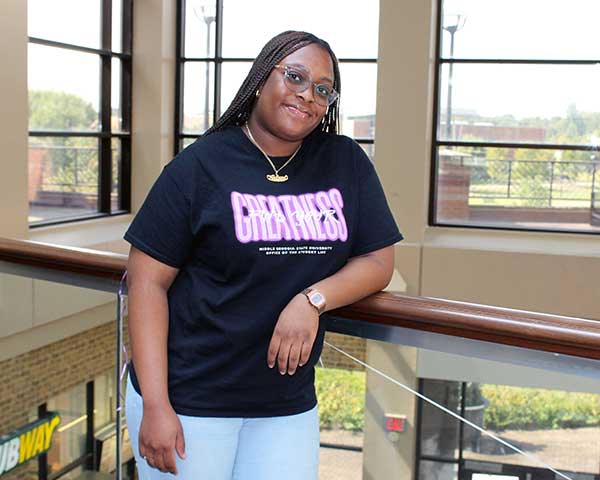 IT major Modupe Oyewole, who plans for a career in cybersecurity, is an MGA student leader, serving as president of the Student Government Association and Macon Campus Activities Board.  
Full Name: Modupe Oyewole.
Age: 21.
Hometown: Lagos, Nigeria.
Residence: Macon.
High School: Corona Secondary School, Agbara, Ogun State, Nigeria.
Family: Grace Bolanle Oyewole (mother); Sydney Olaonipekun Oyewole (late father).
Employment: Student Assistant, Game Room.
Degree Objective: Bachelor of Science in Information Technology with a concentration in cybersecurity.
Class Rank: Senior. 
Primary Campus: Macon.
Activities: Student Government Association (president); Campus Activities Board (publicity chair), The National Society for Leadership and Success; Student Fees board member.
Career Goals: "I would like to be a cybersecurity analyst or be in the tech world in general. Since I was young I have had a flair for technology and the dream is still present till this day."
She chose Middle Georgia State University because … "MGA was the perfect fit for what I was looking for in a university. I had certain criteria that I wanted in a school, one of which was location. Coming from a country that barely gets cold I needed to attend a university in a state that had good weather and does not get too cold during the winter season. Another reason I chose MGA is that tuition is very affordable for someone that has to mostly pay out of pocket."
The greatest thing she discovered about Middle Georgia State was … "The sense of community. MGA is a school where the professors and the students have a good relationship. The school is not that big (which I like), and that helps the professors get to know all of their student. I am able to visit or email my professors about anything and they know who I am." 
Her greatest academic experience as a Middle Georgia State student has been … "Maintaining my presence on the President's List for four consecutive semesters."  
To her, greatness means … "Feeling ecstatic over achievements or doing good things that are beyond the norm. It is basically the feeling of being on top of the world in that moment because of what one has achieved or just being at a place where one wants to be in life."
In five years … "I plan to have established myself in the field of IT and have a job that I also love. I would also like to be comfortably stable in life in general."