Finding Greatness: Kimani Black
Author: News Bureau
Posted: Wednesday, November 30, 2022 12:00 AM
Categories: School of Arts and Letters | Students | Honors/Awards | Pressroom | Finding Greatness
---
Macon, GA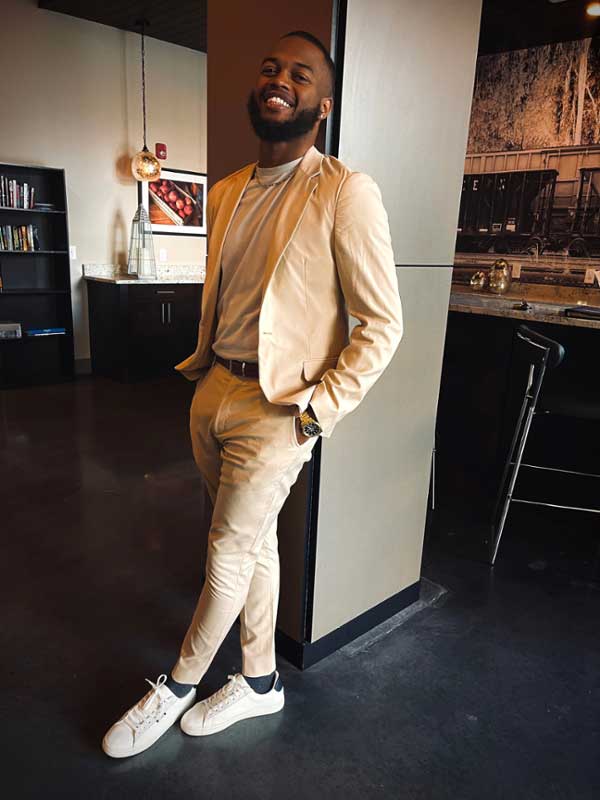 A recent graduate of MGA's Bachelor of Science in Business Administration, Kimani Black recently took a position as an assistant program coordinator for Emory University's Advancement and Alumni Engagement Division. He is furthering his career as a member of the inaugural class of MGA's Master of Arts in Public Relations. 
Full Name:  Kimani A. Black.
Age: 23.
Hometown:  Sunrise, Florida, and Conyers, Georgia.
Residence: Macon.     
Family: Father, Don Black; mother, Donna Black; siblings, Kameron, Kamar, and Kirsten Black.
Employment/Career Highlights: " During my undergraduate collegiate years, I worked an ambassadorship with PepsiCo through MGA's Auxiliary Services Department. After that ended, I began building my professional career with employment in Geico's Emergency Road Service Department during my junior year. Though multitasking in various endeavors was challenging, I managed to keep afloat through dedication. After spending nearly 3 years at Geico, I further pursued my aspirations to enter the field of marketing when I recently accepted a job offer from Emory University's Advancement and Alumni Engagement Division as an assistant program coordinator! I am excited to embark on this new journey because it is proof that I can achieve whatever I put my mind to."
Activities: Alpha Phi Alpha Fraternity, Inc. Epsilon Beta Lambda chapter. "I would be remiss if I did not mention the impact of Alpha Phi Alpha on my professional development. One year into my fraternity, I was elected to the highest position within the state that a collegiate brother could hold, assistant district director. Project management, multitasking, and leadership are only a few duties I vowed my time to each day. Alpha taught me the meaning of hard work and the mutual benefit of servicing others while improving upon yourself. Alpha taught me that it is possible to be a man of manly deeds, scholarship, and love for all mankind. '06!"
MGA Graduate Degree Objective: Master of Arts in Public Relations and Graduate Certificate in Strategic Business Communication.
Undergraduate Degree: " I graduated from Middle Georgia State University in December 2021 with a Bachelor of Science in Business Administration with a concentration in marketing."
He chose Middle Georgia State University for graduate school because … "I always knew that I would further my education past my bachelor's degree because I consistently strive to be unique. Setting myself aside from the crowd is how I continue to exceed my greatest dreams. It became clear to me that MGA would be the school that I chose to further my education. As soon as the program presented itself shortly after graduation, I remember applying instantly because, honestly, it just felt right. I am already extremely passionate about marketing so earning a graduate degree in PR seemed like a no-brainer. As a student with a full-time work schedule, I believe an online master's program that accommodates a busy work schedule along with other responsibilities makes what seems impossible totally achievable. Not to mention the awesome, reliable professors that I am grateful to have instructed me and guided my thinking into the world of public relations."
His greatest experience as a Middle Georgia State graduate student has been … "Interacting with the awesome people that I encounter through my courses, like my classmates and professors. It is great to know that I am surrounded by like-minded individuals that are set on achieving their goals just as I am. MGA has put in place dedicated professors that are persistently instructing our courses and guiding us to be productive leaders in public relations. Middle Georgia State's future is bright with the contributions of these leaders mentioned. The greatness is in the people here at MGA."
To him, greatness means … "Greatness by definition means the quality of being great, distinguished, or eminent. In my opinion, greatness means someone or something that is the best of the best. Greatness is identifying your goals, creating a plan to achieve them, and then actually doing it with the expectations of failure. Greatness is also realizing that failures are not losses but actually lessons. Valuable lessons that cannot be learned in the classroom or office space. Conquering your fears and transforming them into fuel to continue the path to your goal is the most beneficial part of finding greatness." 
In five years … "I intend on furthering my education in the communications field, planning more international travels, and maximizing as much as I can do with the priceless time I am blessed with. I'm also working on furthering my business, Reliable Reps, LLC, to become the most reputable marketing firm servicing clients from various places online. Reliable Reps, LLC's focus is to elevate small businesses to become largely competitive businesses within their respective industries. My business is more of a long-term goal that I am slowly adding to every day. This way I am able to leverage my ability to hire like-minded leaders interested in making a positive impact on the field. I still have fears but I never let them conquer me and I don't plan on letting them think they have a chance."