MGA School of Education & Behavioral Sciences Gets Ready To Host 5th FIRST LEGO League Challenge
Author: Sheron Smith
Posted: Monday, November 7, 2022 12:00 AM
Categories: Pressroom | School of Education and Behavioral Sciences | Faculty/Staff | Students | Events- Public
---
Macon, GA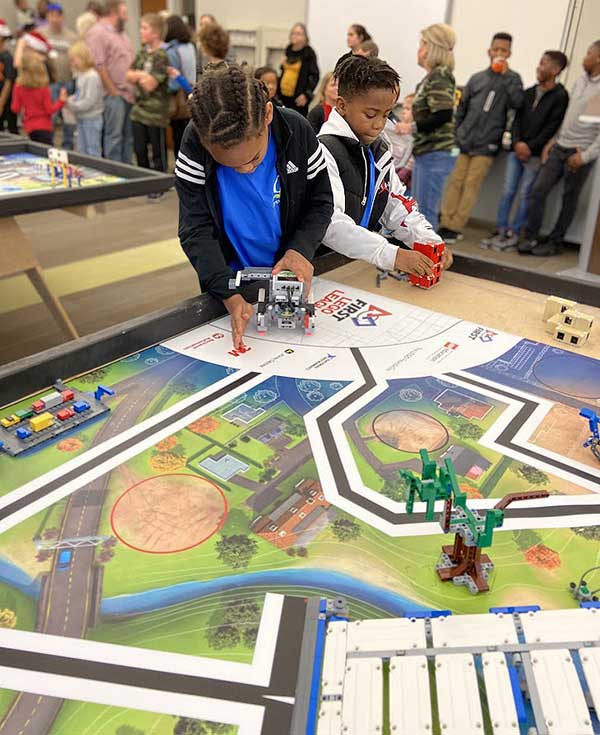 Dr. David Biek calls it "the most insane thing ever." 
What else would you get when you turn loose more than 200 kids from area middle and elementary schools onto a robotics competition, LEGO building contest, and science fair all rolled into one?
"Instant insanity and chaos," Biek said, "but so much fun."
We're talking, of course, about the regional tournament of the FIRST LEGO League Challenge, hosted on the Macon Campus almost every December since 2018 by Middle Georgia State University's School of Education & Behavioral Sciences (SEBS). The idea to host a regional tournament of the world-renowned competition originated with Biek, the school's dean, who saw it as a way to expose middle- and elementary-school students, along with their parents and teachers, to the "gem" that is Middle Georgia State University (MGA).
"In 2018 I was a new dean trying to figure out an interdisciplinary way to get all the academic units in the school together," Biek said. "The LEGO competition is a true STEAM event, so I saw it as a tentpole that a lot of people could rally around."
The first MGA-hosted regional tournament in 2018 drew a dozen teams from middle and elementary schools around the area and at least that many University faculty members, mostly from SEBS, who volunteered to be competition judges or help out in other ways.
This year, Biek expects 24 teams to compete at the Saturday, Dec. 10, tournament on the Macon Campus and another 12 on Saturday, Dec. 17, at a newly added site – MGA's Dublin Campus.
"We're very excited we were able to expand to an additional site this year," Biek said. "It fills a geographic gap in competition and gives more kids the chance to participate."
So what exactly is the FIRST LEGO League Challenge?
It's an international competition for "challenge teams" of elementary and middle-school students created by an organization called For Inspiration and Recognition of Science and Technology. According to FIRST's website, teams are introduced to a scientific and real-world challenge to focus and research on.
The robotics part of the competition involves designing and programming LEGO Education robots to complete tasks. The students work out a solution to a problem related to a given theme (that changes every year) and then meet for regional, national, and international tournaments to compete, share their knowledge, compare ideas, and display their robots. FIRST LEGO League Challenge teams may use "any LEGO-made building parts in their original factory condition" to construct their robots. The robots are programmed using any language allowing autonomous movement.
Biek's interest in the competition comes naturally, flowing from his own LEGO-playing childhood in upstate New York. Years later, after joining MGA, he and wife Angelica worked with and cheered on their children at robotics competitions at Vineville Academy and other schools. 
"Obviously, MGA didn't invent this kind of competition," Biek said, "but I do think we put on a premium event. I think when parents come here with their children for the competition they are pleasantly surprised to see what kind of facilities we have at Middle Georgia State. Hosting this ticks so many boxes - it brings so many pieces of our school's mission together and fosters name recognition for the University."
In Georgia, the affiliate partner for FIRST LEGO League is Georgia Tech. The Georgia Tech Center for Education Integrating Science, Mathematics and Computing (CEISMC) facilitates the program and operates the state championship each year. CEISMC provides logistical and some financial support for the hosts (such as MGA) of regional tournaments in the state.
"Georgia has the most teams and most participants in the entire country," Biek said. The event "is so popular in Georgia that the leadership (CEISMC) is considering splitting the state in two" for the purposes of competition.
Since MGA is hosting tournaments on both the Macon and Dublin campuses this year, Biek expects a record number of at least 240 students to participate. About 15 MGA faculty members already have agreed to help out at this year's event, but Biek said he could use at least 20 more volunteers, particularly those willing to be judges. Faculty volunteers are welcome to get family members and friends involved. 
On the Macon Campus, the tournament is scheduled for 8:30 a.m. to 3 p.m. Saturday, Dec. 10, at the Teacher Education Building. The Dublin Campus tournament is scheduled for 8:30 a.m. to 3 p.m.  Saturday, Dec. 17, at the main instructional building.
Beyond the insanity and the chaos, Biek is certain of one thing: at the end of both days of competition, his face will hurt.
"From smiling so much," he said.
Editor's note: MGA faculty, staff, and students interested in volunteering can email Dr. David Biek at david.biek@mga.edu.