MGA Formally Opens Dublin Campus Health Sciences Expansion
Author: News Bureau
Posted: Monday, January 9, 2023 12:00 AM
Categories: Pressroom | Faculty/Staff | Students | School of Health and Natural Sciences
---
Macon, GA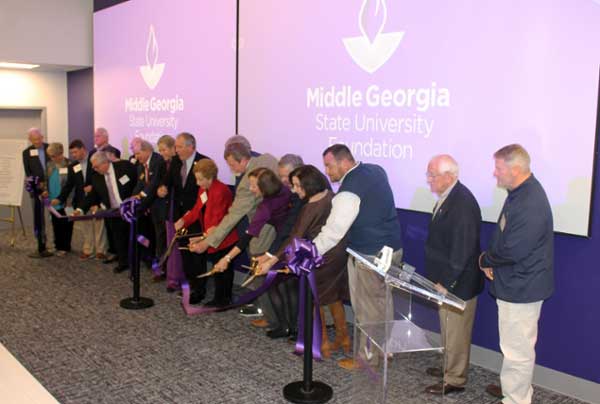 DUBLIN - Middle Georgia State University (MGA) is celebrating the completion of a nearly $6.8 million renovation and expansion of the institution's Dublin Campus into a healthcare degree program hub.
MGA President Christopher Blake, Ph.D., and the University Foundation hosted a formal dedication and reception on Friday, January 6, at the campus, located at 1900 Bellevue Road.
State Rep. Matt Hatchett and state Sen. Larry Walker III, whose districts include Dublin and Laurens County, attended, as did W. Allen Gudenrath, 8th District representative on the Board of Regents, the governing body of the state's public colleges and universities. Karen L. Core, retired chief nurse executive for HCA for whom one of the campus's new nursing classrooms is named, also attended, along with many of the project's private donors.*
In 2020, MGA received $4.8 million in state bond funding to expand space, equipment, and faculty at the Dublin Campus – located near Carl Vinson VA Medical Center - to admit and graduate more nursing students. The project includes two large nursing lecture classrooms, a 20-bed hospital laboratory, a 3-bed nursing simulation lab, a technologically enhanced observation room that connects to the simulation room, and two additional nursing faculty members dedicated to the Dublin Campus.   
That funding was supplemented in early 2022 with a $900,000 award from the Georgia governor's office. Gov. Brian Kemp allocated the funds through the Governor's Education Emergency Release Fund (GEER) II. GEER II was funded under a section of the federal Coronavirus Response and Relief Supplemental Appropriations (CRRSA) Act.  
Private donors have contributed an additional $389,000 for the project, while another $700,000 in funding came from the University System of Georgia's MRR (major repair and renovation) budget.
MGA has long offered an associate's degree in nursing on the Dublin Campus, typically admitting 60 students each academic year. The expansion project will allow MGA to admit 100 students each year and expand the bachelor's nursing degree (BSN) into Dublin. Forty of the 100 students admitted each year will enter the bachelor's degree program.  The University sees the project as vital to MGA's mission to help meet critical workforce needs; in this case, producing much-needed RNs for rural areas. Over time, MGA plans to offer other healthcare degree programs on the Dublin Campus.
*Donors
Jimmy & Kathy Allgood
Morris Bank
Don & Fara Avery
Louie & Ann Curry
Renee & Fritz McPhail
Bob & Jackie Walker
Tracy Green
Dr. Stephen Svonavec & Dr. Kara Smith Svonavec
Bank of Dudley
Roger Miller & Bruce Miller/Wallace & Shirley Miller Foundation