Finding Greatness: Robert Asher
Author: News Bureau
Posted: Monday, May 8, 2023 12:00 AM
Categories: Pressroom | Finding Greatness | Students | Faculty/Staff | School of Arts and Letters
---
Macon, GA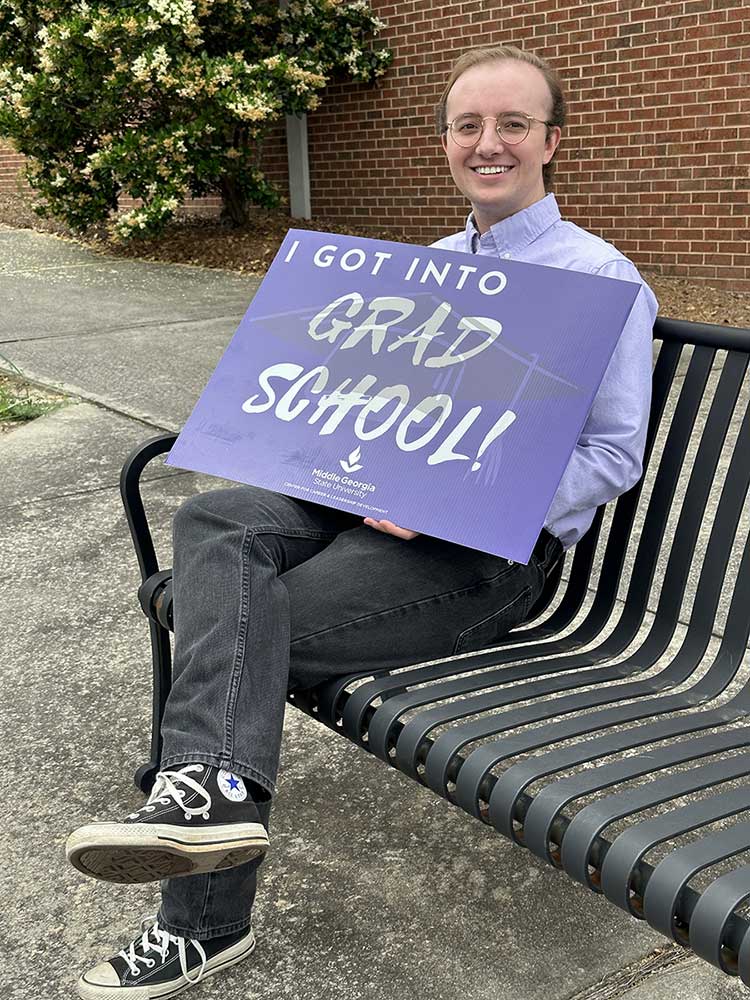 Robert Asher, who is about to graduate from MGA with a B.A. in Media and Communications, has been accepted to New York University (and offered a scholarship) to pursue the Master of Arts in Cinema Studies. He is interested in either a career in academia or film programming and preservation. 
Full Name: Robert Asher.
Residence: Bonaire, Ga.
Employment: Full-time student.
Degree Objective: Bachelor of Arts in Media and Communications.
Class Rank: Senior, graduating May 2023.
Activities: "I wrote film reviews for The Statement, and I was published in Knighted. I started really using the Center  for Career and Leadership Development during the fall 2022 semester because that's when I started applying to grad schools. They helped me make my statements of purpose better and helped me create academic resumes. The whole process of applying to grad schools was pretty daunting to me, and they helped me navigate it."
Career Goals: "Right now, I'm saying I want to be a professor, but I'm also interested in film programming and preservation."  
He chose Middle Georgia State University because … "It was in state and close to where I was living."
The greatest thing he discovered about Middle Georgia State was … "The professors, honestly. I have great relationships with most of the professors I had, and I know I'll be keeping in touch with them after graduation. A student can be another name on the roster if they want, but I don't think that's wise, especially if you want to enter such a competitive industry as film or if you want to apply to grad programs."
His greatest academic experience as a Middle Georgia State student has been … "Growing as a writer. I had two papers published in Knighted, and Dr. Palmer told me recently that she can see how much I've gotten better since I was in her class. Dr. Colley tells me that my writing style is pretty easy to read. I know it was this growth as a writer that helped me stand out to committees when I applied to grad schools."
To him, greatness means … "Being confident and hard-working. As I've gotten more self-confident, some things haven't really bothered me that might have before. For example, I've submitted a short screenplay to festivals, some big ones, and if it doesn't win, it's not going to upset me. I'm honestly not even expecting it to place at some, but I don't take the likely probability of getting rejected to mean that my screenplay is bad or that I'm not a good writer. I applied to NYU not expecting to get in, or that if I did, I wouldn't be able to afford to go anyway. So ever since, I've just approached things with the mindset that I might not get accepted, I might not win, but it's better to know than to wonder. But if I had been lazy during my time at MGA, I definitely wouldn't have gotten into NYU."
In five years … "I think that I'll either be in a doctorate program or working with film in some capacity, whether that means programming, preservation, or something else entirely."