Finding Greatness: Nathan Hall
Author: News Bureau
Posted: Thursday, September 7, 2023 12:00 AM
Categories: School of Health and Natural Sciences | Students | Pressroom | Finding Greatness
---
Macon, GA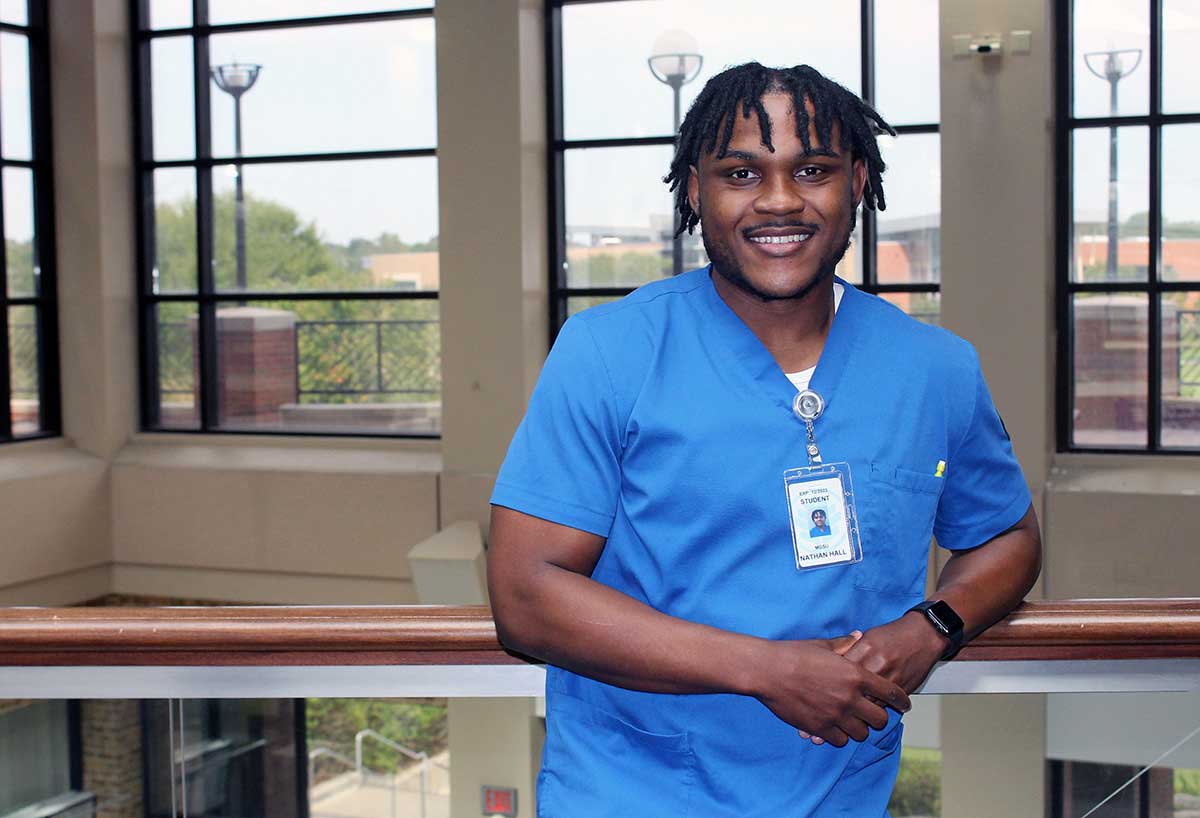 Nathan Hall is president of the student organization for respiratory therapy majors, MGREAT.
Full Name: Nathan Hall.
Age: 23.
Hometown: Dublin.
Residence: Macon.
High School: Dublin High School.
Family: Mom, Angela Hall; brother, Caleb Hall. Father passed away in May 2021.
Employment: Full-time student.
Class Rank: Senior.
Degree Objective: Bachelor of Science in Respiratory Therapy.
Activities: "I am the president of MGREAT (Middle Georgia Respiratory Education Action Team), and a member AARC (American Association for Respiratory Care)."
Career Goals: "I want to become an RT to help people improve their health. Life is already tough as it is and to help make someone's day a lot better is truly rewarding."
He chose Middle Georgia State University because … "It was close to home and affordable."
The greatest thing he discovered about Middle Georgia State was … "The unity and togetherness of this University, along with the professors. The professors genuinely want to see me achieve greatness.  I will stay connected with them even after graduation for continued advice. MGA has lower class sizes; the professors can give students more individualized attention and that has been crucial for my academic success over the years."
His greatest academic experience as a Middle Georgia State student has been … "Being in the respiratory program. I enjoy everything about it. I never knew how much I would love respiratory therapy. This program has taught me to persevere when times get tough and to celebrate my accomplishments, even if they are small."
To him, greatness means … "A collection of things. To me it means being hard working and determined. To become great, you must work hard and make sacrifices. One of my favorite quotes is by Kobe Bryant. It states. 'Greatness means to inspire the people next to you. When you inspire others, the cycle of greatness continues.' Being great is not only beneficial to you but also to the people around you."
In five years … "I will be a well-respected respiratory therapist and continuing my education in my field, including earning a degree in health services administration."