MGA Announces New Athletics Director to Lead University's Transition To NCAA Division II
Author: News Bureau
Posted: Wednesday, November 1, 2023 8:55 AM
Categories: School of Aviation | School of Education and Behavioral Sciences | School of Arts and Letters | Athletics | School of Business | Faculty/Staff | School of Health and Natural Sciences | Pressroom
---
Macon, GA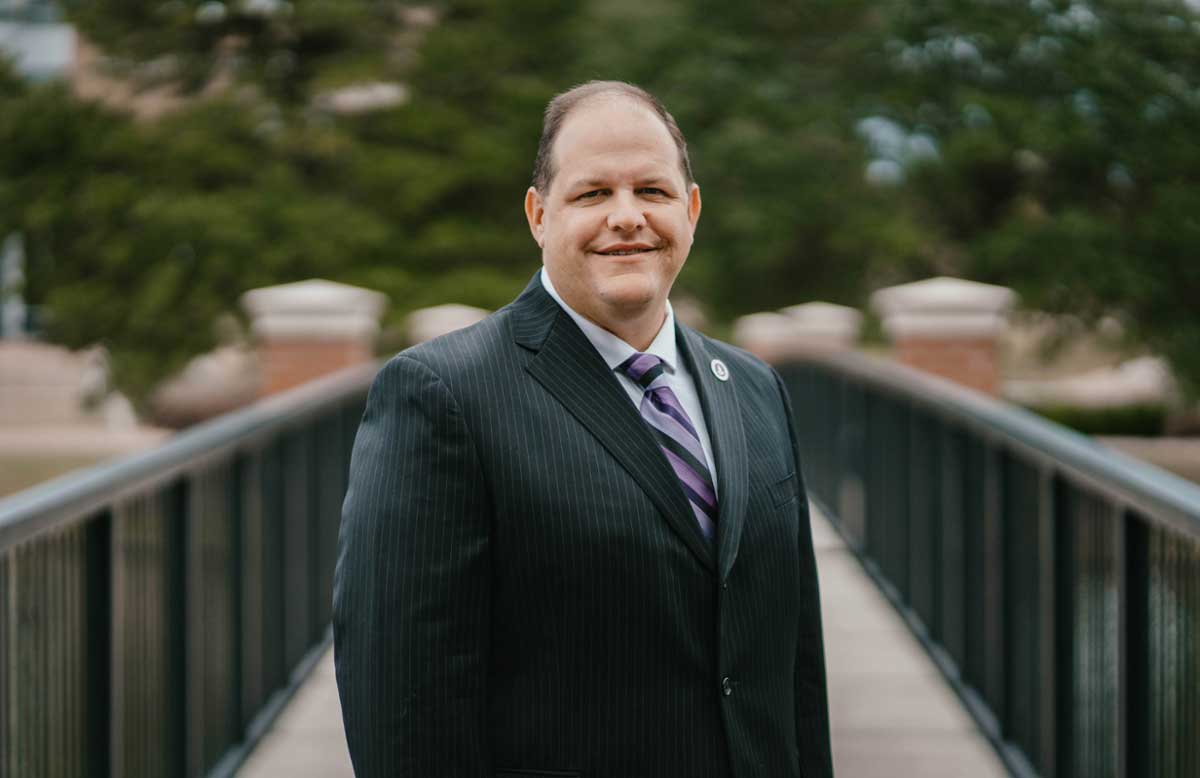 Michael Brown, who has extensive leadership experience in collegiate athletics, has joined Middle Georgia State University (MGA) as director of athletics, effective November 1. Most recently associate athletic director for operations at Purdue University Fort Wayne, Brown will immediately take charge of shepherding MGA Knights athletics through its most momentous change in years – a transition from the National Association of Intercollegiate Athletics (NAIA) to National Collegiate Athletic Association (NCAA) Division II. 
"I am elated to join Middle Georgia State at this momentous time in the history of Knights athletics," Brown said. "My vision is to see the Knights thrive as one of the top programs in the NAIA while we continue to pursue full-time membership as an NCAA Division II institution. My goals include collaborating with other MGA constituents to ensure student-athlete excellence in academics, the community, and in competition."   
Earlier this year, the Board of Regents of the University System of Georgia formally approved MGA's pursuit of NCAA Division II membership. With the transition, MGA will join other NCAA Division II institutions in the state university sector within the University System.  
With the approval to pursue NCAA Division II, MGA formally requested consideration for membership to the Peach Belt Conference. The institutions of the Peach Belt Conference are more like MGA and provide the opportunity to develop in-state rivalries. The decreased geographic footprint of the Peach Belt Conference means less travel time and less time away from the classroom for Knights student-athletes. 
The transition to NCAA Division II is a multiyear process and requires institutions to spend time as provisional members. MGA's goal is to become a full member of the Peach Belt Conference and NCAA Division II in academic year 2028-2029. 
"The goal of transition to NCAA Division II is to provide student-athletes with enhanced opportunities for competition, as well as greater access to academic and athletic resources," Blake said. "It highlights our commitment to excellence in both academics and athletics. With his 15+ years' worth of experience in intercollegiate athletics administration, Michael Brown is well qualified to lead the Knights through this exciting new chapter. He brings a wealth of experience and a strong history in collegiate athletics administration. I am confident that with his deep understanding of the NCAA and its regulations he will successfully lead us through this process."  
Brown will serve as a member of the president's cabinet. 
At Purdue University Fort Wayne, an NCAA Division I institution, Browns served on the executive athletic administration team. Previously, he served as senior associate athletic director for external operations at Palm Beach Atlantic University, an NCAA Division II institution. While there, Brown assisted the university president and athletic director in the institution's transition from NAIA to NCAA Division II, as well as full membership in the Sunshine State Conference. 
Brown holds a Master of Science in Athletics Administration from California University-Pennsylvania and a Bachelor of Science in Business Administration from Indiana Wesleyan University. Originally from Gainesville, Ga., he is married to Jessica Brown and has a 1-year-old daughter, Bethany. His wife, named an All-American while playing softball for Mississippi State University, is the former head softball coach at Taylor University and Palm Beach Atlantic University.  
As a member of the NAIA Southern States Athletic Conference, MGA offers baseball, softball, women and men's soccer, and women and men's basketball, all based on the Cochran Campus, while men and women's tennis, women's cross country, and volleyball are based on the Macon Campus. MGA plans to add an additional team in women's long-distance track.  
Having the athletics program spread out over two campuses is logistically challenging, but Brown said he is committed to expanding the Knights brand in Cochran and Macon and across the region. 
"I fully believe that this transition will see Knights athletics establish itself as a premier program within the Peach Belt Conference," he said.