Kruger Family, Keith Moffett Recognized As MGA Foundation's 2023 Legacy of Leadership and Outstanding Alumnus Award Recipients
Author: News Bureau
Posted: Monday, November 6, 2023 12:00 AM
Categories: Pressroom | Honors/Awards | Events- Public
---
Macon, GA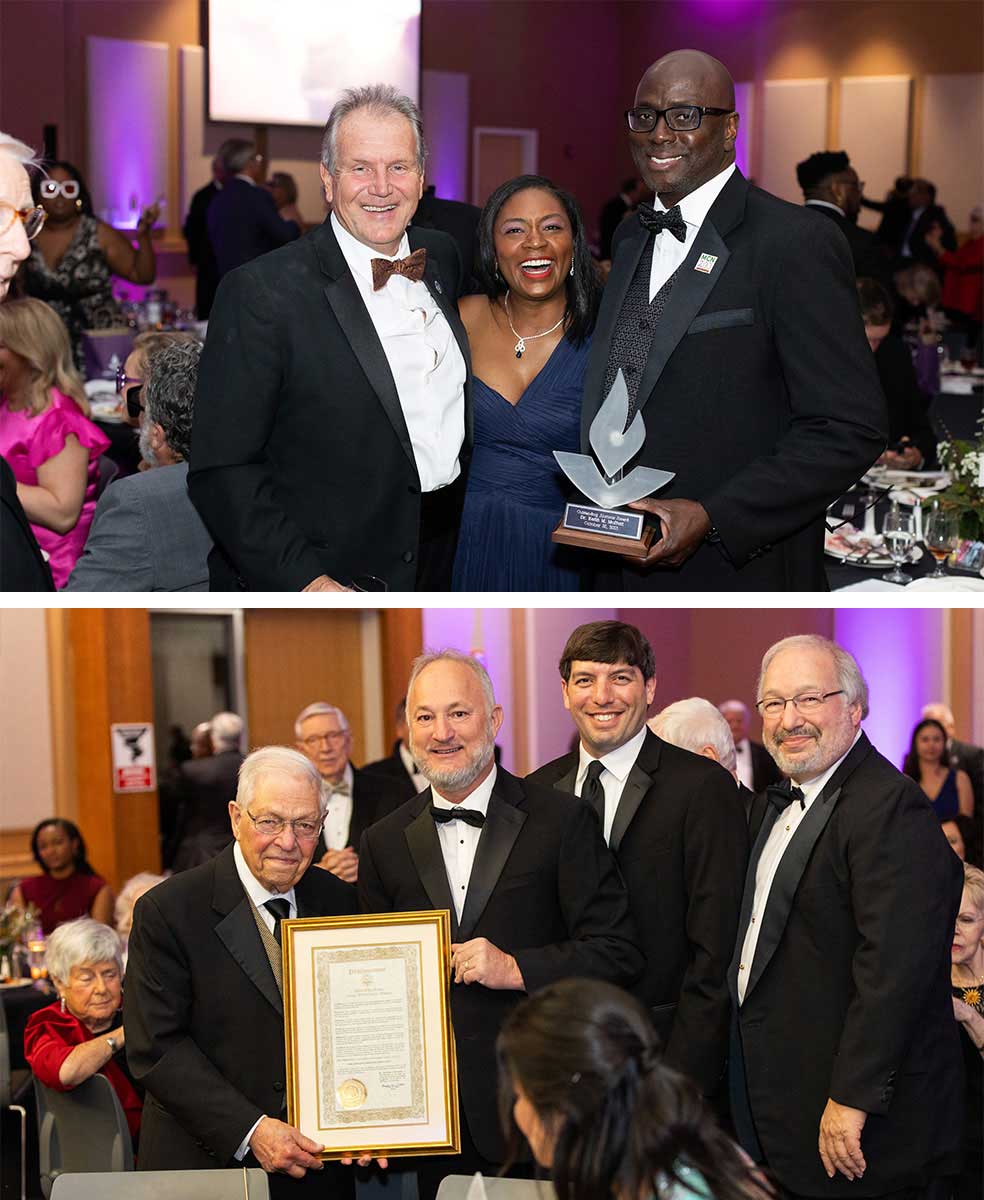 The Middle Georgia State University (MGA) Foundation has awarded the Kruger family, well-known in the region for business and philanthropic accomplishments, the 2023 Legacy of Leadership award, while Dr. Keith Moffett, the current Macon-Bibb County manager who has built a career in public service, is this year's Outstanding Alumnus. 
MGA President Christopher Blake presented the awards at the President's Gala, hosted by the Foundation, on the evening of October 20.  
The Kruger family owns and operates L.E. Schwartz & Son, Inc., a diversified company engaged in commercial roofing, residential roofing, industrial roofing, roof maintenance, historical roof restoration and precision manufacturing.  The company's current leaders are those recognized by the Legacy of Leadership award: Melvin Kruger, CEO, (and grandson of the company's founder), his son, Steve Kruger, who is company president, and his son, Michael Kruger, who is vice president. 
All three are active in civic and charitable organizations in the region. Melvin Kruger is a former Greater Macon Chamber of Commerce president and has been involved with the U.S. Chamber of Commerce, United Way of Central Georgia, and Georgia Chamber, among many other boards and commissions. Steve Kruger is a graduate of Leadership Macon and Leadership Georgia. His civic and business affiliations include Central Georgia Health Systems, Community Foundation, USF Foundation, and many others. Michael Kruger is also a graduate of Leadership Macon and has served on multiple boards, including those of the Greater Macon Chamber of Commerce, United Way of Central Georgia, and Communities in Schools of Central Georgia. 
L.E. Schwartz & Son is a longtime supporter of the Middle Georgia State University Foundation and its predecessors, having given more than $90,000. Steve Kruger has chaired the Foundation's Board of Trustees.  
A U.S. Navy veteran, Moffett graduated from what is now MGA with a bachelor's degree in business and information technology. He has long been active in the University's Alumni Association and served on the president's advisory board. He established a scholarship that is awarded each year to a veteran pursuing a business degree at MGA.  
Moffett earned a Ph.D. in educational leadership from Mercer University. A graduate of Leadership Macon and Leadership Georgia, he was Macon-Bibb's E-911 Operations Center director and Butts County administrator before taking on his current role. In another previous position he served as regional project manager for the Georgia Department of Economic Development. 
He has been named to Macon Magazine's "5 Under 40" leadership list, as well as Georgia Trend's "40 Under 40." As an adjunct college instructor and continuing education instructor he has taught numerous courses in leadership and management. Moffett is a certified public manager from the Carl Vinson Institute of Government.  
The Legacy of Leadership Award recognizes an individual, persons or group who have given exemplary service to the University and the Foundation. The Legacy of Leadership Award is the highest honor the MGA Foundation bestows.  
The MGA Foundation established the Outstanding Alumnus Award to recognize graduates who have distinguished themselves academically, professionally, or through community involvement and achieved positions of influence and regional or national reputation.